The story of my Schnatermann-build began in spring 2018. I had been building another kit for a long time and had all kinds of "decision-making"-problems with it. Instead of diving into these properly once and for all, I had grown slightly tired of it and put it on hold. I needed a new challenge.
I love scale-models of working-boats, that's my cup of tea. Not speed boats, not historical monuments and not sail-boats (although I do sail a Dragonforce65 every now and then :)) Unfortunately, the supply of model-kits that appeal to me is quite limited. We have the excellent line-up at Model Slipway and Dean's Marine have a couple of nice ones. So does Graupner and a few others. Add to the equation that I like doing things a little bit different than everyone else. Meaning, building another Graupner-kit would not be so appealing to me, since "everyone else" has already done that. I know, I really should end up with scratch-building, but I don't feel comfortable and experienced enough for that yet.
After countless of hours searching on the net, I stumbled upon a – to me – unknown supplier at http://www.modellbau-sievers.de/. Instead of trying to find a nice kit at this site, I actually had to sit down and carefully select between several models that I really liked. In the end though, the choice fell on the Schnatermann pilot boat.
At first, I planned to "convert" her (paint-job mostly) into a Swedish coast guard vessel, since her shape is pretty similar to the KBV 300-line of vessels that I absolutely love and adore. But, since my local club already has a "perfect" build of a KBV 307 (see below), I figured I should stay true to the actual pilot vessel – and thereby becoming more "original".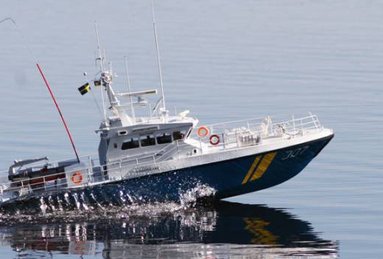 The Schnatermann is one out of 5 identical vessels built in 1995. She is known by MMSI 211222780 and Call Sign DQKK.
Please don't confuse her with this version of Schnatermann 🙂
Schnatermann's sisters are the Klaashahn, Öllermann, Meckelborg and Muttland. All vessels are active as of this writing (2018).
They are operated by the "Lotsbetrieb GmbH" in Mecklenburg-Vorpommern in northern Germany, and serves the waters between Rostock and Rügen, close to the Polish border.
Vessel data is available at http://www.lotsbetrieb.de/en/fleet/schnatermann/
The model-kit is made in scale 1:20, meaning it measures 75cm in length, is 28cm wide and weighs 2 kg (plain model without electronics)